Horticulture
KEY STAGE 4
Land Based Studies (Horticulture)
This is a vocational programme which will provide you with the knowledge and understanding essential to the Land Based Sector, supporting progression to further learning or the workplace. The course is a mixture of practical work and classroom project work which is assessed 100% internally.
BTEC Level 1 Introductory award in Land-based studies is a specialist BTEC qualification that gives learners knowledge, understanding and skills they need to prepare for employment in a specific occupational area. The qualifications in Land-based Studies has been developed to give learners the opportunity to engage in learning which is relevant to them and will provide opportunities to develop a range of skills and techniques, personal skills and attributes essential for successful performance in working life. Students will work both outdoors maintaining our allotment area and school grounds and also some time in class building up their knowledge and evidence based file. The course will cover how to grow and maintain plants, how to prepare soil for planting and how to use a range of different tools and land based machinery including essential health and safety instruction. The course will be delivered by an experienced horticulture tutor and teacher in school.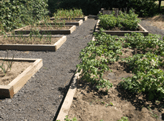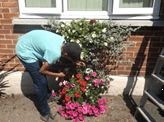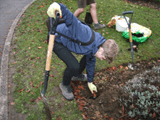 CURRICULUM TIME (per week)
KS3: 4 lessons per week-2 practical, 2 classroom based
KS4: 2 practical lessons per week

BTEC ASSESSMENT
All of the units are assessed internally, once a particular skill has been learnt and practiced. There is also an ongoing record of work involving work diaries, photos and research, that students produce.
These qualifications consist of two types of unit. Group A units are the core skills units, they cover content designed to reflect the skills and behaviours needed to progress to further study. Group B units are made up of sector units containing sector-specific content to enable learners to develop sector-specific skills and some knowledge to support progression to the next stage of vocational learning. Units from Group A and Group B may assess the same transferable skills.
In the land-based studies sector the qualifications are:
Pearson BTEC Level 1 Introductory Award in Land-based Studies (70 GLH) (Qualification Number 603/5135/4)
Pearson BTEC Level 1 Introductory Certificate in Land-based Studies (180 GLH) (Qualification Number 601/8561/2)
Pearson BTEC Level 1 Introductory Diploma in Land-based Studies (360 GLH) (Qualification Number 601/8562/4)
HEAD OF DEPARTMENT: P.Kitchener (Horticulture Teacher), S.Roberts (teacher)